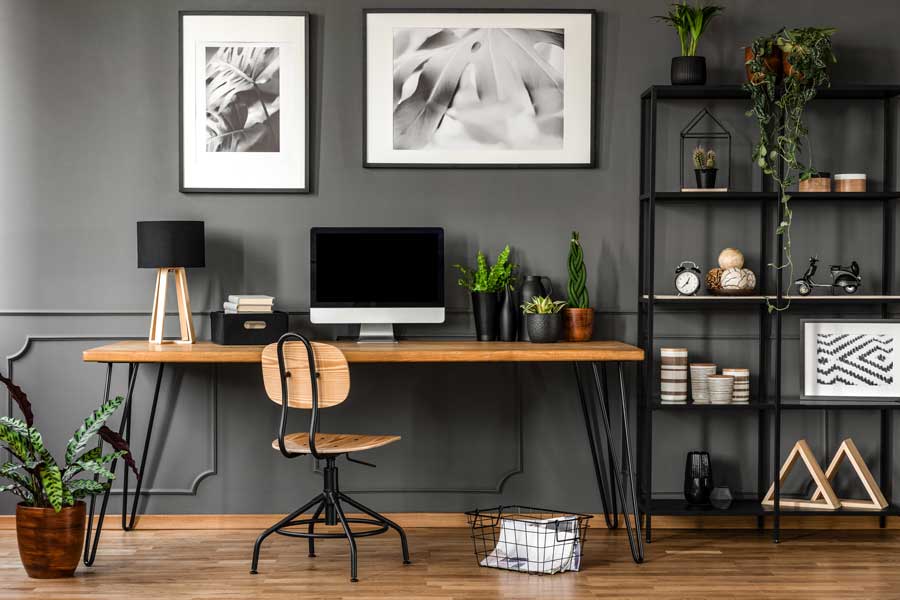 Many people today find that a home office is a necessity. Which is one of the reasons why we always build our Ripple Creek homes with your needs in mind. That way you have access to stylish, functional spaces that you can use for whatever your need may be, including an office. Depending on what you use your office for, the color you choose to paint it can either help you meet your goals or hinder you from doing so. That is why we have compiled a list of colors that may prove particularly useful when incorporated into your home office.
Blue
If you do a lot of stressful and demanding work in your office, choosing a paint color that offsets the high intensity work is ideal. For this purpose, crisp, light blues will do the trick. Airy, watery blues instill serene surroundings which is why this color may prove calming during your workday.
Green
Most modern work is done by means of the computer. You probably know or have experienced yourself that staring at screens for long periods of time takes its toll. Taking regular breaks during your workday to stretch your limbs is important but so is letting your eyes take a break intermittently. Which is where the color green comes in. Green is known to be revitalising and refreshing, so painting your office green can provide a place to look off to when your eyes need a change of scenery.
Yellow
Somedays (like Mondays) you need a little something extra to help you get through the day. Yellow is a punchy color that can promote a stimulating environment. Cover a wall or two with this bright color to energize you throughout your day.
Red
Like yellow, red is a stimulating color. It is known to raise blood pressure and cause you to be more alert. Therefore it is a great color if your job requires you to be on a lot of business calls and meetings and you need to remain focused and driven. Too much red can be irritating but a red accent wall can prove to be just enough to help you throughout the work day.
At the end of the day, your home office should be exactly what you want and need it to be. Why not try out one of the colors listed here that best suits your purposes. And if you need more home inspiration, take a look at our other Ripple Creek blogs.
By Ripple Creek Homes 11-29-2021